Comfortable couches always add glamour to the surroundings. It gives a positive aura of livelihood. With time, the look and comfort of the couch decorate. But, with proper maintenance, you can keep your couch the most used upholstery. One may not do the cleaning task so accurately on his own. Therefore, hiring a professional can ease your job and is the best way out to clean the couch.
Here Are The Top 4 Reasons To Hire A Professional Couch Cleaner:
1. Increase The Durability Of The Couch
The couch is one of the cosiest upholstery that attracts each individual. Its usage is availed by most individuals. Therefore, there is more chance of wear and tear. Sometimes, cleaning upholstery on your own might also cause damage to your couch. Dust and dirt also contribute to further damage. Therefore, within a short interval, you may start planning to buy a fresh couch. However, maintaining a couch can increase its durability.
You may hire an expert to visit your place and evaluate what sort of cleaning is required for your couch. Whether it's your most lovable couch or heirloom chair, a professional can give it a fresh look and increase its durability.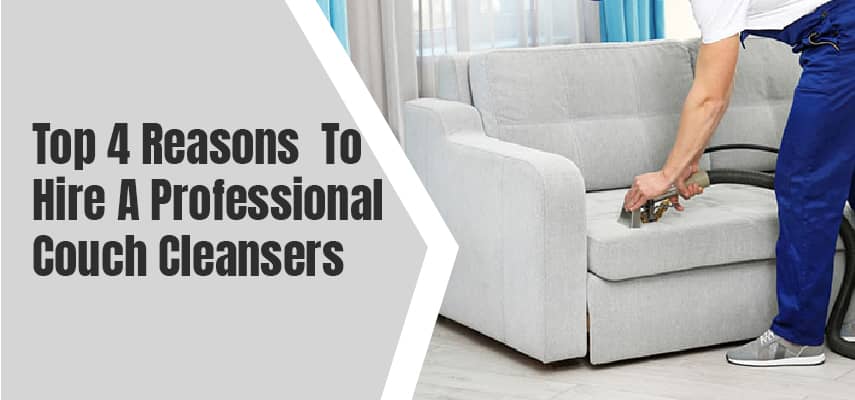 2. Time-Saving
Valuing time is the most important aspect of everyone's life. Cleaning your couch on your own can make things go clumsy and dull. All the extra work and effort you put on while cleaning the couch may take a lot of time. Whereas, hiring a professional can ease your job. He knows the right method and technique to be applied on the couch so that it lasts for a long time. An expert easily identifies the issue and resolves it as per the need. Moreover, a calculated number of service charts will be made for your couch cleaning to avoid any misconception and you may acknowledge that the right thing is taken care of. You might also be not aware of the tools and their usage. Therefore, cleaning would be difficult for you. Therefore for an immediate cure, hire a professional. This is one of the top 4 reasons to hire a Professional couch cleaner in Hobart.
3. Usage Of Advanced Equipment And Techniques
Many people desire to clean their upholstery in solitary to save the expenses. Regularly, one may opt for this method but if you want to extend the lifespan of your couch then it's important to make it clean properly quarterly. Experts are well aware of the sensitivities of the couch and deal with it accordingly. Some fabrics are sensitive and delicate to clean, while others are hard. Therefore, cleaning the couch as per the requirement is a must.
Moreover, the equipment will be used on the couch as per the fabric material. The techniques used by professionals to make the couch clean thoroughly are unbeatable. Their experience and training sessions have made them well aware of how to use the right techniques and equipment as per the requirement. Henceforth, advanced tool usage is one of the other top 4 reasons to hire a Professional couch cleaner.
4. Recreate Hygiene Conditions And Maintain Aura
A couch in the living area is going to be more usable and easily accessible for any task. Therefore, with regular usage, it starts emitting foul and unpleasant odours. Numerous bacterias, germs, and viruses start attacking the sofa. Hence, hiring a professional for cleaning the couch becomes the need of the time. He will help you to recreate the hygienic conditions of the couch which will enhance the beauty around you.
Even though you might be using a vacuum cleaning machine at regular intervals for removing dirt and dust, antigens attack the couch and remain on the fabric if left untreated. Therefore, this is one of the Top 4 reasons to hire a Professional couch cleaner.
Conclusion
Cleaning the couch on your own is a tedious task. Hence, hiring a professional couch cleaning team as per your availability and convenience can ease your work. Moreover, safety measures are taken by professionals to keep you and your loved one safe. Therefore, the above-mentioned Top 4 reasons to hire a Professional couch cleaner are enough to ping an expert.